Laila H
Hylton wrestling set the theme of victory early in the season with a fist place win at the Blue Devil Duels Tournament.
Although key players Calypso Saunders and Mark Blakely graduated last year, the team still persisted. Their success was evident at districts, where seniors Shawn Nonaka, Jaden Deristel and Nicholas Lorenzo all won first place titles, and they proceeded to continue their reign of victory at the regional competition. The team also defeated its rival, Forest Park High School, in a few wrestling meets.
"I thought this season went great, with the seniors going out in style and getting the young guys acclimated for the future," said Coach Leonard "TJ" Jackson.
Nonaka was named Cardinal District Wrestler of the Year after earning 38 victories this season. He also earned the Occoquan Region Wrestler of the Year title. His greatest victory was against Potomac High School's Syed Moaz in a 5-2 win at the Cardinal District Tournament.
"It's been a goal of mine since [my] freshman year to be a district champion and district Wrestler of the Year, so I feel honored to be able to accomplish that. This is a step in the right direction. I can't look past anyone or any goal ahead of me. When I first went to Hylton, not very many people expected much from us, so I am really excited to be able to represent my school and show them that good wrestlers can come from there," said Nonaka following the meet.
Nonaka has not yet decided where he will attend college. He received an offer to wrestle at the Virginia Military Institute.  He has also been accepted to George Mason University and Averret College.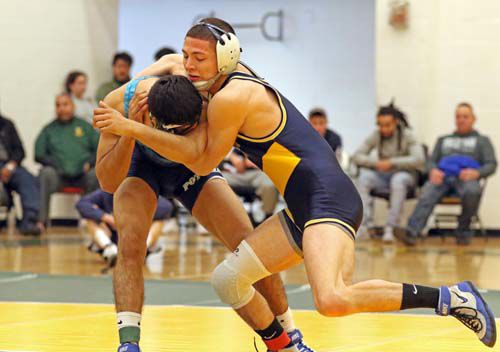 Nonaka and Moaz during their fight at the Cardinal District wrestling meet.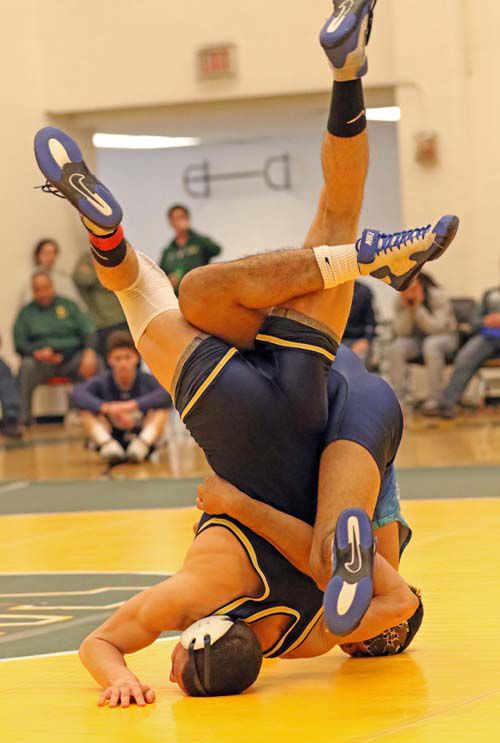 Another great player was Jaden Deristel, who won first in districts, second in the regional competition, and acquired an impressive 152 points at the Cardinal District Wrestling Meet. Deristel will attend Hampton University in the fall.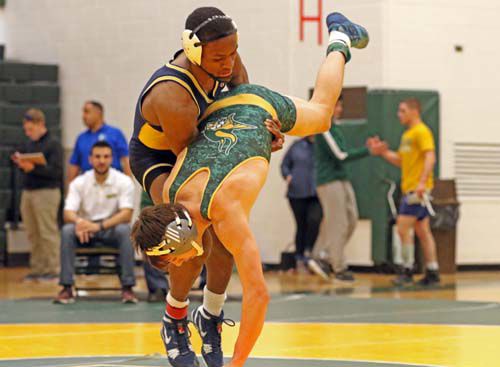 Overall the team's season was much stronger than the last.